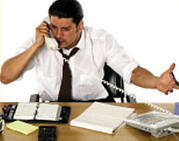 The easiest behavioral style to recognize is the Dominance style. Dominance types will be direct and forceful. They will usually talk fast, have definite opinions and like to make things happen.

Dominant, powerful, results oriented individuals, who enjoy challenges and will make quick decisions. Their emphasis is to shape their environment by overcoming opposition and get the results they want.

They have a strong need to accomplish results, and will overcome (or run-over) any obstacles in their way. They like to take charge, make decisions and solve tough problems. They thrive on power, prestige and authority.

Some potential blind spots for this style of behavior are views of others, impatience, sensitivity, stepping on people, overuses of challenges and intimidation for some people.

They might say things like this:

"I hate to lose! I sometimes demand what I want. I sometimes ask a lot of questions. I want others to know I'm the boss. I might say things to surprise people. I want to be the best at everything I do."
The dominant type fears losing control and not getting the results they seek to achieve if they are not in control.
To Learn More
Preview a sample of the DiSC® Classic Profile. To gain personal and professional success you need to understand yourself and others. Learning your behavioral style and that of others will help you to build more productive teams, improve customer service, ease frustration and conflict and develop more effective managers.